Create retail quality pins with us!
At Alchemy, we focus on producing retail quality, custom collectible enamel pins, keychains, coins and more. Our mission is to help you make the best merchandise you can for your brand.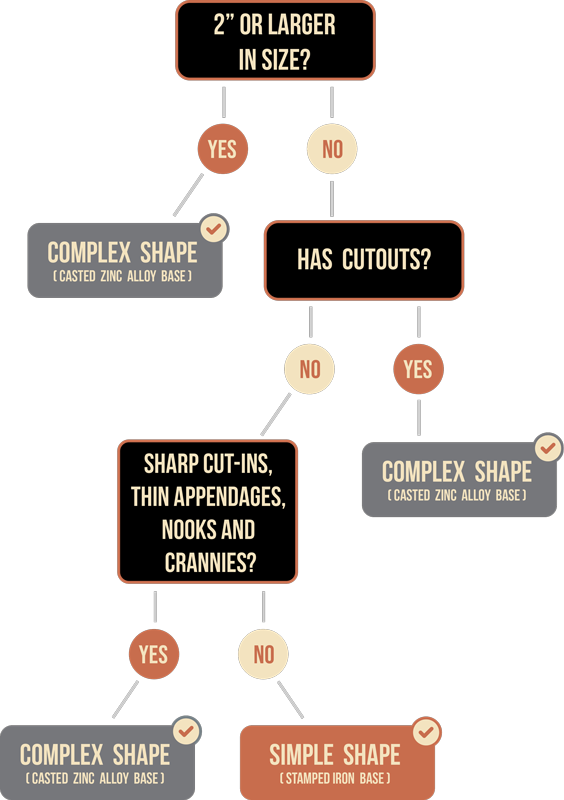 Simple Shape vs Complex
Wondering if your pin needs a simple or complex mold? Here's a guide to help you decide. A simple shape is a stamped iron pin mold and a complex shape is a die cast zinc alloy base metal.
Choose from hard enamel, soft enamel, soft enamel with epoxy, rainbow metal, acrylic, wooden, offset printed, uv printed, needle minders, coins, necklaces and 3D modeled digital pins. You can also create your own pin banners for your fans to showcase their collections.
Learn about the differences in pins
Hard Enamel Pins
Buffed down to be a flat surface and considered to be the highest quality and are priced higher for retail. Screen printing can easily be added and these pins are often highly collected.
Soft Enamel Pins
Considered the traditional pin style with raised flat metal and inks at a lower profile. Epoxy can be added to do a mock hard enamel feel. Adding epoxy kciks any specialty inks like glitter or glow into high gear.
Rainbow Metal Pins
Anodized rainbow metal is made by intorducing an electrical charge to the metal while submerged in water. This creates a unique look to the metal that varies per pin. They can only be made in soft enamel, or in soft enamel with epoxy for a higer end feeling. Each pin is a one of a kind unique item.
Acrylic Pins
Perfect for full color images or art with gradients. Single sided with two pieces of plasrtic and a safety pin backing. Glitter epoxy or a Holographic effect can be added.
UV Printed Metal Pins vs Offset Pins
UV printed offer a high end pin style that allows full color and gradients with a thin clear coating to protect the printing. These are the highest quality way to do a full color pin design.

Offset Pins are great for full color images on a budget and for any promotional use. They have a thinner metal and are only avaiable with gold or silver nickel metal.
Wooden Pins
UV printed pins allow you to print in full color on poplar wood. A backstamp logo or sequential numbering can be added.

Wooden pins without ink are made right here in the USA and feature raised lighter areas and recessed, burned areas for a two tone look to your pins. Very fast turn around times.
Digital Pins
3D Modeled and great for either promotional use to step up your game in a fundraising campaign or to feature on your website. They are fully interactive and can be spun, zoomed in on and viewed in VR. Digital pins are also a great way to pair a physical and digital product release if you want to mint them on a blackchain. You could sell the physical pin and the person who buys it also gets the digital version to add a unique perk to your product.
Needle Minders
Hard or Soft enamel with a flat back and two magnets. One is glued to the back and the other magnetc draws to the first so it can be used as a needle minder. The surface will also have a magnetic pull to keep needle in place. These are done on zinc alloy which is not megnetic natually to allow for the magnets to work properly.
Coins
2D or 3D, double sided coins. These include two molds (front and back) and work great when using one of the antique metals for a really unique look. Inks can also be added, but work best in a 2D application.